Well, that was a busy weekend for the bees at NTR, we had many members taking part in all sorts of rides.
We had a huge presence at the Doncaster Flat 100 Sportive with many positive comments from other riders about how polite NTR are. See, training rides improve leg strength and ride etiquette too.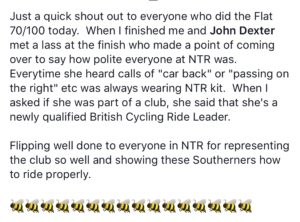 Whilst that was going on down south, we had a couple of the guys taking part in the Alnwick CC time trial, well done to Craig for taking on his first race.
Our European travellers all safely returned from the warmer climates of the Majorcan mountains back to the cooler UK North East winds after a week of cycling. Majorca is becoming more and more popular with members with the club shirt being a permanent fixture at the Palms Bar.
Finally, we had a re vamp of our Sunday rides last week and its always a worry when things are changed, thankfully we must be doing it right as people returned mixing themselves between the Early Sunday Ride and the Sunday Club rides A (42 Miles),  B (70 Miles) and C (90 Miles).
Fancy a bit of this? Why not give us a try?