By Grant Taylor, NTR armchair Pro
Hello Bike lovers, it's been a while. If a week is a long time in Pro Cycling, then two months is almost an eternity. I'm not actually sure where my last column ended, and where this one should begin. So in my usual style, rather than go back and check, I'll just take a wild guess and waffle on.
Looking back, April was an exciting month on the race circuit, and a tragic one off it. The sudden loss of former Giro D'Italia winner Michele Scarponi came as a huge shock. On a racing level, Scarponi was a rider from the dark old era, and was one of many riders implicated in the Operacion Puerto scandal in 2006. He would be suspended for 18 months. More recently, he was also linked with Michele Ferrari, leading to his sacking by his team. We'll never know whether he was a clean rider in the latter years of his career, but so many in the Pro Peloton thought extremely highly of him, and I believe his biggest win, the 2011 Giro to be clean. His form also seemed to be coming back, no longer shackled by domestique duties, and he won his final race at the Tour of the Alpes just 5 days before his passing. He would have lead Astana at the Giro, and in my opinion, could have managed top 5. On a merely human level, a Man, a Father, A Son, and a fellow cyclist has been lost, and two children will tragically grow up without their Dad. RIP Michele.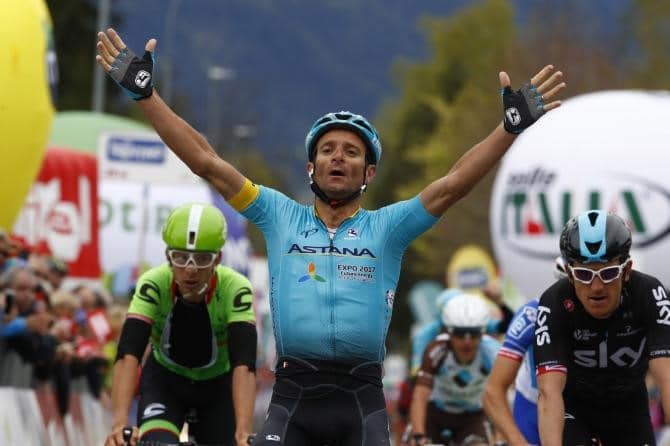 This season's Spring Classic season was as good as any we've seen. Greg Van Avermaet was a class above, well and truly shaking off his "Mr Second" tag, almost cleaning up in Flemish Classics, then winning his biggest race at Paris Roubaix. It wasn't to be for my beloved Tom Boonen, and the Mr Roubaix rode off into retirement with his 4 wins, and a couple of Flanders thrown in. Not a bad return all in all. I now need to find another rider worthy of this level of man love. It could be a long search.
Switching to the Ardennes, only one man really stands out. Alejandro Valverde. Who else I hear you cry. Valverde put in a stellar weekend in Belgium, winning his 5th Fleche Wallone, and his 4th in a row. It's simply stunning. His combination of timing and pure power are unmatched. You have to feel a bit for Dan Martin bless him. Although he is tactically inept, I did believe that he would finally, probably accidentally, time his attack right and win this year. It's now abundantly clear that he simply has to wait until Valverde retires and have another go then.
On the Sunday, exactly the same thing happened again. Dan credit went early, trying to go with about 500m left instead of losing in the spring. Valverde simply waited, then rode up to him, and passed him on the final corner and had time to straighten his jersey and smile for the camera. Love him or hate him, and it's mostly the latter, he's rather good at this type of race.
The final honourable mention for the Spring goes to Phillipe Gilbert. He won the Tour of Flanders with a stunning solo ride 55k from the end, then adding yet another Amstel Gold race. Not bad for another old timer. The old lads are showing the young a clean pair of wheels.
Moving onto the Tour of Romandie, it was super hilly as it should be given that Switzerland is not exactly flat. Richie Porte proved yet again that he is one of the best One Week Stage Race riders in the Peloton. He took the race by 21s from Simon Yates, and 26s from the rapidly improving Primoz Roglic. He will once again be installed as a favourite for the Tour de France, before suffering some kind of mechanical within the first couple of days, then probably ride into the back of a TV Motorbike when attempting a comeback.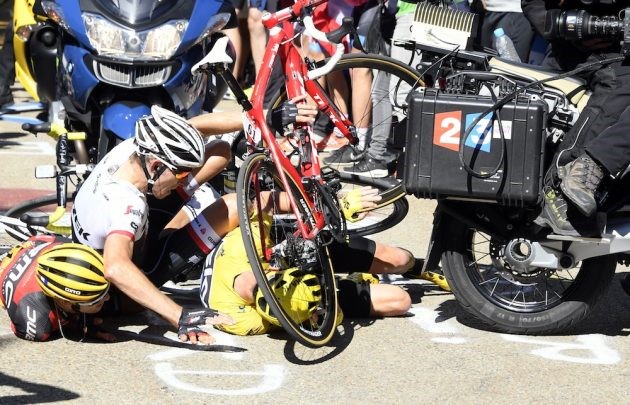 Never ride your bike while constantly looking at your Garmin. Don't be like Richie and Chris.
Bringing us right up to date, the Grand Tour season is finally with us, with the 100th Giro D'Italia. This year's Corsa Rosa delivered a punishing, stunning route, starting on the beautiful island of Sardigna, moving over to Sicily, then remaining on Italian soil for the remainder, barring one brief incursion into Switzerland.
What then happened was something like a week of training rides. Absolutely nothing happened of any note in the first Six Stages. Even Mount Etna saw a group riding up a mountain together, too scared to attack as it was a bit windy. I'd like to invite these lads to the North East, NTR will show them what riding in wind is all about.
It finally kicked off on Stage 8 to Peshichi, a break got up the road, it looked like our first Italian winner, and he promptly fell off trying to go round an uphill corner too fast. Not a problem I'm ever likely to have. Gorka Izagirre won, Gazzetta dello Sport declared a National day of mourning as we are now a week into the race without an Italian winner.
Stage 9 was when the GC race literally went mad. The stage went into the rugged Abruzzo region, to the fearsome Blockhaus Ski Station. Just when it was shaping up for the GC battle, with 13k remaining, the front of the Peloton was decimated by a crash. A Police Motorbike decided to park up on the road, which was already quite narrow. Team Sunweb's Wilko Kelderman was the first down, before practically wiping out Team Sky's chances and taking down Mikel Landa and Geraint Thomas. Movistar decided to press on, rather than do the sporting thing and allow these lads back on. Even "He who shall not be named" once allowed Jan Ulrich back on after a crash before launching his attack. Nairo Quintana went onto win, taking Pink, but a large Dutch Time Trialist finished the day only 30s behind on GC.
Now we all know that Tom is a decent tester, but have Movistar underestimated him? He's clearly lost a bit of weight for the mountains, and we now have the answer as to whether he can still hold his power in a TT. He won the stage, slaughtering Quintana, Pinot and Nibali by over 2 minutes. It was an Indurain like display, a Game Changer. From seeing the race as a cakewalk for Quintana, we now have a fascinating race between the climber trying to snatch seconds on the climb, before the tester gets them back in the last stage. Chuck in Nibali taking a drink of the cow's blood or whatever Sicilian black magic goes on, and making his Third week comeback, and we've got a real race here. I'm just gutted for Geraint Thomas and Adam Yates, as their time lost looks just too much. With the final stage being a 29.3k TT from the Autodromo di Monza to Milan, anyone fancy a repeat of Lemond v Fignon in the Champs Elysees in 1989? This report was finished before the start of Stage 12.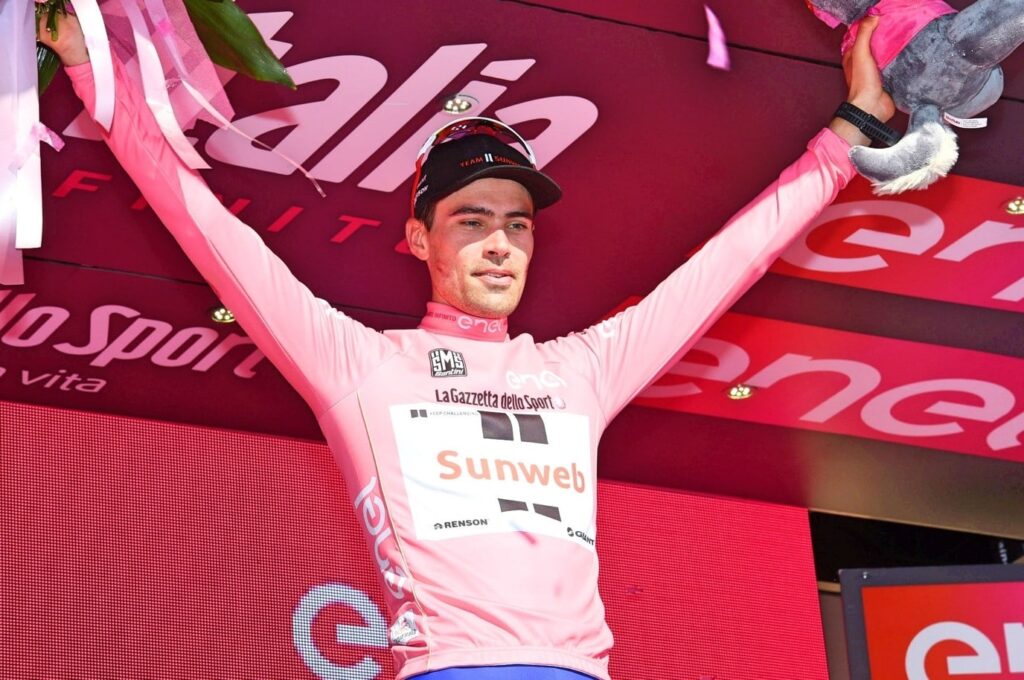 There will be no predictions from this columnist, as I'm absolutely rubbish at them.
Oh, go on then. I'm going with the Dutchman, the Tester will beat the climber, ushering in a new Indurain era, horrifying the rest of the world, and delighting Time Trial fans like me.
Arrivederci
Grant Taylor