NTR has a new Captain – a big welcome to Suzanne McArdle! She was overwhelmingly voted for at our recent AGM and is known to many in the club. But how much do you know about our new Captain? We've been digging deep with some probing questions….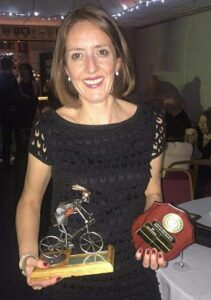 How long ago and how did you get into cycling?
About 6 years ago I signed up for a charity bike ride at work, I didn't own a bike but worked on the assumption my general fitness would see me through. I turned up and got given a hired hybrid 30 mins before we set off and then promptly set about riding 93 miles from Newcastle to Harrogate. Amazingly I made it and quite enjoyed it…I decided I might quite like owning a bike – it took me another 3 years to actually get around to buying one!
When and what made you join NTR?
A common theme, I bought my bike in January 2014 and immediately got convinced to sign up for a charity ride from London to Paris by my friend. Fast forward to summer 2014 and I'd ridden my bike once, I had no-one to ride with and didn't know where to ride, and the event was only 2 months away. Panic stations set in so I set about googling local cycling clubs and came across the NTR facebook page – I signed up immediately and went along to some Tuesday and Sunday rides to get some training in….as the saying goes…have never looked back since!
What do you love about cycling?
Getting out and about in the fresh air, seeing new places, setting new challenges, spending long days out in the countryside, the social aspect, an excuse to eat copious amounts of cake!
What do you love about the club?
The people, all the new friends I've made, the huge calendar of events, how inclusive it is, the range of rides and ability groups catered for, the socialising, the banter, the trips away
What attracted you to apply for the Captain post?
I was already heavily involved with the club – it's often been said I'd turn up to the opening of an NTR envelope, (oops!) – and attend a large number of the rides and events so am pretty well known in the club and like to think I have a good feel for what people are thinking / feeling about various aspects of club life. I'm also genuinely interested in the wellbeing / direction of the club so I felt like I could bring something to the committee. On top of that, I'm pretty nosey and like to be involved and didn't like to think I was missing out on something, haha!
What do you hope to achieve as captain?
I'd like to think I can contribute to what is already a fantastic committee that is doing great things and help NTR to continue to thrive. I'm a pretty approachable so would love people to come to me with thoughts, feelings, ideas etc
What's your favourite / hardest ride?
Hardest rides have been the Arran Gold challenge and the Fred Whitton. Favourite weekly rides are the Guidepost Trot and the Breakfast Blast (the full English may have something to do with that!). Other favourites have been Coast and Castles, riding in the Dales and the Lakes and Ride London.
Cycling goals for 2017?
2017 is turning out to be the year of the cycling trips….I've already done Spain and The Dales. Still to come are the North Coast 500, Massif Centrale in France, Ireland, The Lakes and  Madagascar. Then throw into the mix a few challenges C2C, C2C2C, Ride London, London to Newcastle. It's going to be another amazing year on the bike with lots of amazing adventures, fab sights, great company, fun times…and probably a fair bit of cake and booze 🙂
Thanks Suzanne!
To get in touch with her drop her an email at suzanne@northtynesideriders.co.uk