2018 – THE YEAR IN REVIEW
Our membership continues to grow. Today we have 493 members. Like gym memberships, not everyone who joins a cycling club comes out to play, and numbers will naturally dip at each annual renewal, and build again across the year. Compared to other clubs, our membership retention at annual renewal this year was over 86% which is phenomenal.
In addition to solid numbers attending the weekday and weekend club rides, we also saw a massive increase in the number of epic rides. People doing epic stuff inspires others to do epic stuff too.
Travel and cycling in different countries featured a lot in 2018.
In March, four of us travelled to South Africa to do the iconic Cape Town Cycle Tour.
From April through to June, there was a relentless procession of NTR members passing through Mallorca. The Palms Bar in Port de Pollensa became the place to go and the owners Brian and Tracey began to get an idea of just how many of us there are and semi-permanently moved their NTR jersey from the walls around the bar into pride of place on the central pillar.
More of us overlapped with that group for a few days, and as we left, others arrived. Later in the year, NTR was represented in the premier Mallorcan cycing event, the 312. In the autumn, once the blazing summer heat settles, cyclists recolonise Pollensa and NTR members were there all over again.
It's hard to keep up with the activities of nearly 500 crazy people, but a quick flick back through months and months of Strava data reveals rides in North America, rides all over Europe, Africa, Asia, Australia and New Zealand. We are happy to be wrong, but I don't think anyone rode in Antarctica or South America in 2018, but we think 5 out of 7 continents is pretty close to world domination.
One member climbed Scafell Pike on foot, cycled to France then summited Mont Blanc and another member completed ther first Iron Man in Copenhagen
North of the English border, a group took there bikes over to Arran and added Scotland to the list of countries on the NTR list.
Back home in England, several club-subsidised rides were put on, including the coast-to-coast-in-a-day, an overnighter to Clennell Bunkhouse near Alwinton, a Dirtbags tracks and trails ride from Berwick to Tynemouth and for the even more adventurous, a dozen members had a fantastic ride doing those 325 miles from London to Newcastle in just over 24 hours.
The Sunday Super Social cake rides remain ever popular.
Prudential Ridelondon took place again in July. Another great NTR weekend dominated by eating, drinking and laughing with a twist of cycling! The black and yellow swarms were spotted at the Great North Bike Ride in August, at The Cyclone, and the Big Sunderland Bike Ride in June. On the west coast, people did the Ride to the Sun ride.
So, North, South, East, West, black and yellow looks the best.
The Saturday morning sessions remain popular with the NTR Juniors, the sight of all these tiny little people on their tiny little bikes, proudly wearing their tiny little NTR jerseys is just absolutely glorious and uplifting.
2018 competitions
Cyclocross
NTR now have a conspicuous presence at local CX races, especially towards the back end of 2018. We have a regular group flying of the NTR colours (and flags) at CX events. As the year ticked by, many members became completely hooked on CX racing and their enthusiasm for the sport is now tempting others to have a look.
Five of our NTR Juniors also took part in the kids CX races. We may even be hosting our own CX race this year. Watch this space.
Crit racing
The crit racing season is just starting to kick off now and we have had a few members race at Croft circuit already.
Muckle Hill Climb event at Prospect Hill
This was the second time this event was offered by Muckle and the uptake from NTR was as impressive as the year before. Our two clubs made up a significant number of the field.
Time Trials
North Tyneside Riders itself hosted four Time Trial events last year and will be hosting four more this year. These were very well received and the umbrella body, CTT NE, knows that NTR are now a dependable set of hands when it comes to helping to field these events.
NTR men entered many Time Trials across the season, with a few members consistently there, especially during the hill climb season.
NTR hosted the popular 4-up TT this year at Stamfordham and fielded a few teams of its own.
Zwift
We've had crappy winter weather for weeks now but in the land of Zwift there is no winter and the sun always shines. In the past few months members have continued to build on the huge buzz around Zwift and as a result the sale of turbo trainers has gone through the roof.
The NTR Zwift Facebook group is alive and well and 93 members these days. My thanks to all who contribute to it.
Weekly schedules
We are continuing to run Rob At The Back on a Monday night and to run Loops and Laps on a Wednesday. The Guidepost Gallop and Trot on a Wednesday will return in April. Tuesday night rides will continue and are proving popular with 90-100 riders with different abilities turning up and grouping themselves well. The Tuesday HALT rides have carried on right across the year and will be moving from the slopes of Wallsend and the fish quay to the hills of Beamish once the lighter nights return.
The Thursday night Beginners and Improvers Loops & Laps has been given it a fresh lick of paint and a occasional riverside view at the Royal Quays.
The offroad Dirtbag riders continue to add new routes and options.
We have added a Friday night beer ride in recent months and that only really leaves Saturdays without a regular club ride.
Time Trials
This year we're hosting one hill climb TT on the Gibbet at Elsdon.
In addition to this we will be hosting an early season 10 on the fast popular 'Barnesbury' course in Cramlington and a hilly 27 mile TT in Rothbury.
And as already mentioned, NTR is hosting the 4-upTT again. It would be fantastic to see more members having a go.
The future really is black and yellow. Thank you all so much for getting involved!
NTR AWARDS 2018
All but one of tonights awards were voted on by either the committee or the members.
1. NTR DISTANCE 2018 award
This award recognizes those who go out whatever the weather and clock up the miles over the year.
The big hitters this year were Rob Bolton (over 10500), Derek Billham (over 10000), Paul Dixon (over 9700), Rob Waugh (over 9300), Suzanne McArdle (over 9000), Andy Roberts (over 8300)
The six top mileage munchers alone amassed over 60 THOUSAND miles in one year. I'll just let that number sink in for a second.
With 12506 miles, the award for NTR distance in 2018 goes to CRAIG DUNN.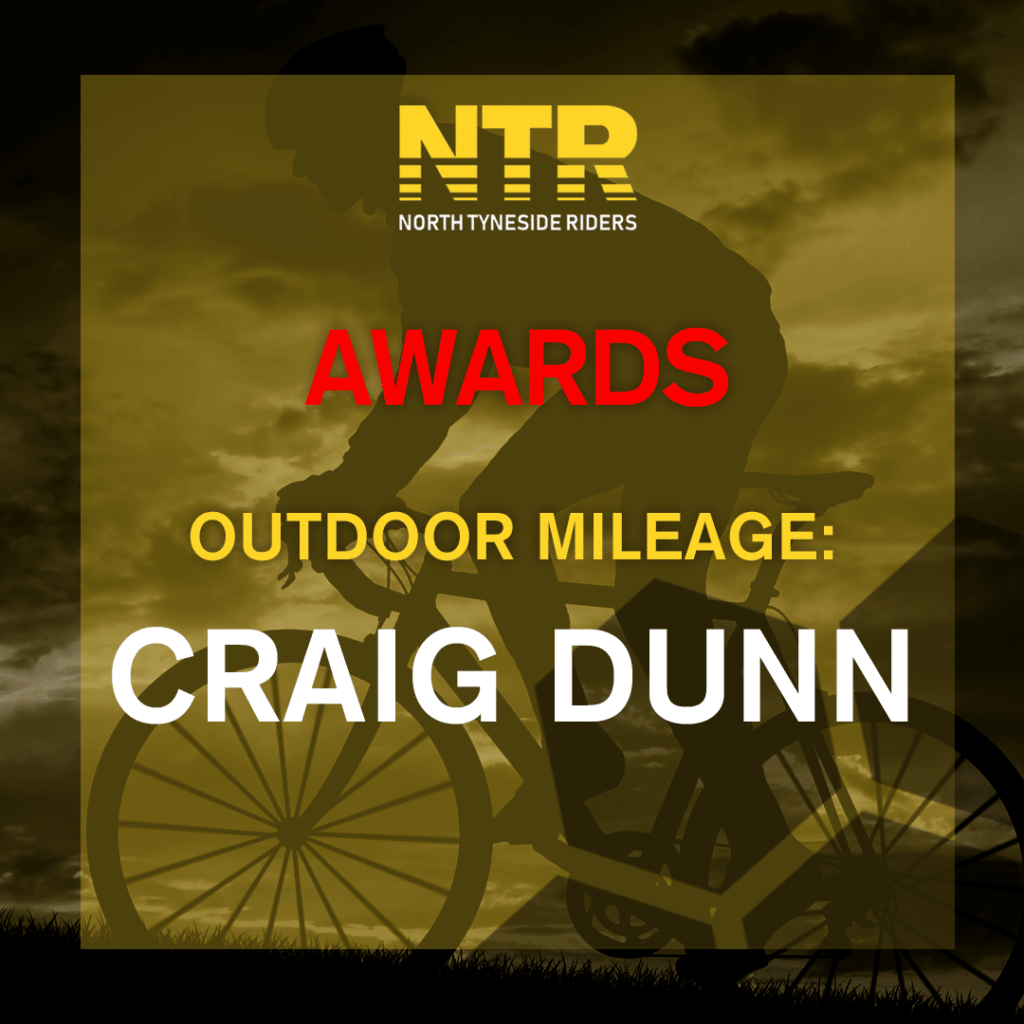 2. The NTR HIGH HOPES AWARD 2018
Recognises somebody who is up and coming. Who shows immense potential on a hill and on the flat, and who has the capacity to do well.
So, with high hopes for 2019 the high hopes award goes to WILF SERGANT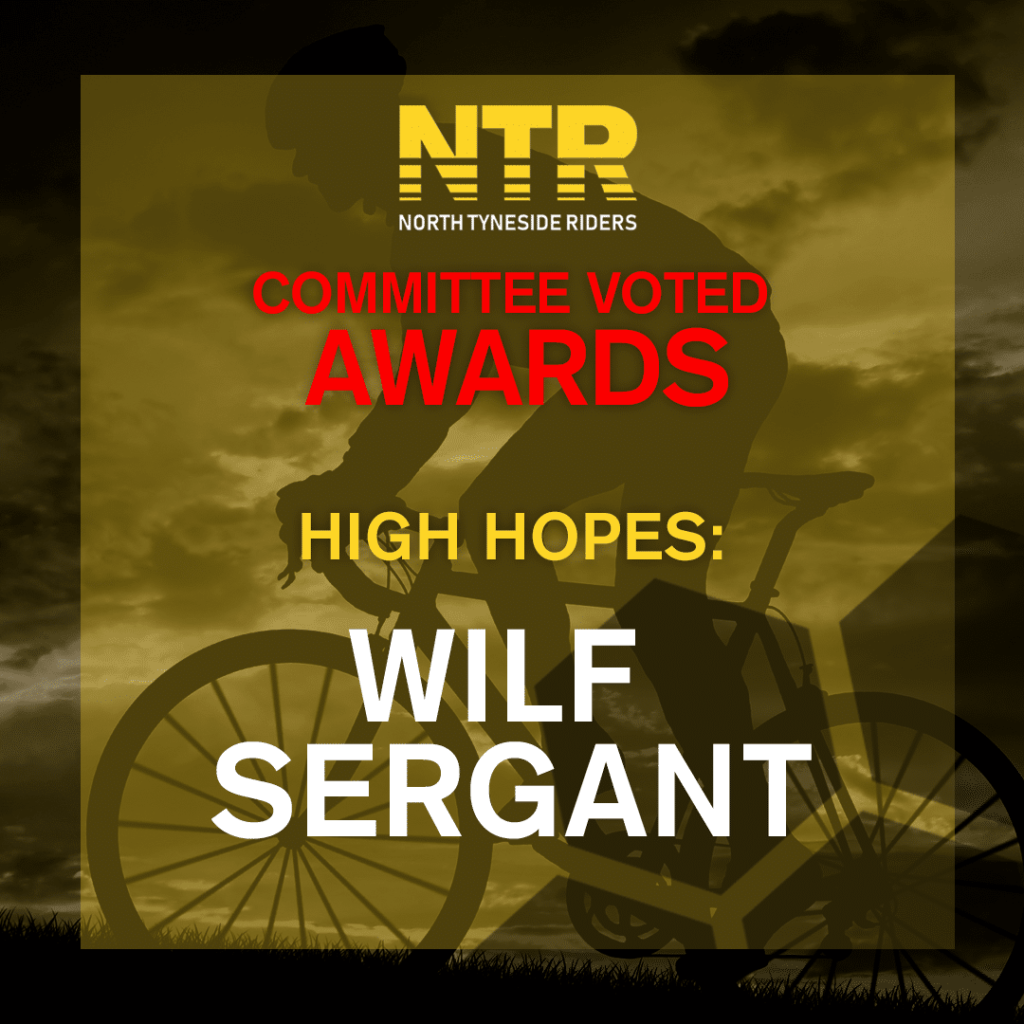 3. NTR COACH OF THE YEAR Award 2018
NTR has been fortunate to train up a healthy number of British Cycling-certified coaches and at the moment they're predominantly training at the Saturday NTR Juniors sessions.
They all give up their time voluntarily because they love it and the kids love it.
So the committee took the opportunity to talk about all of them, and the coach of the year award goes to IAN GALLON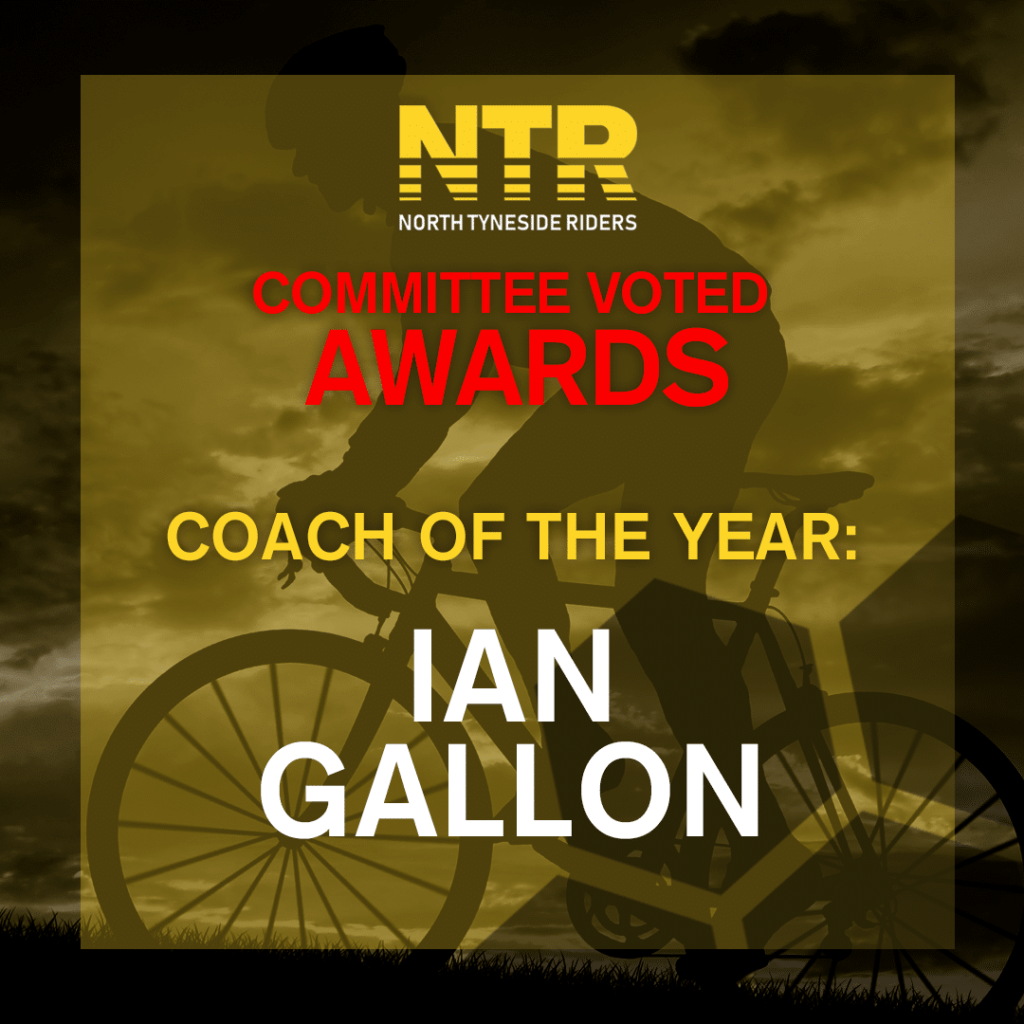 4. CHAIRMANS AWARD 2018
This is where I get to give an award where the Chairman personally recognises somebody within this club who contributes in so many different ways.
NTR is all the richer for having her, and so the Chairman's award goes to NICOLA OLIVE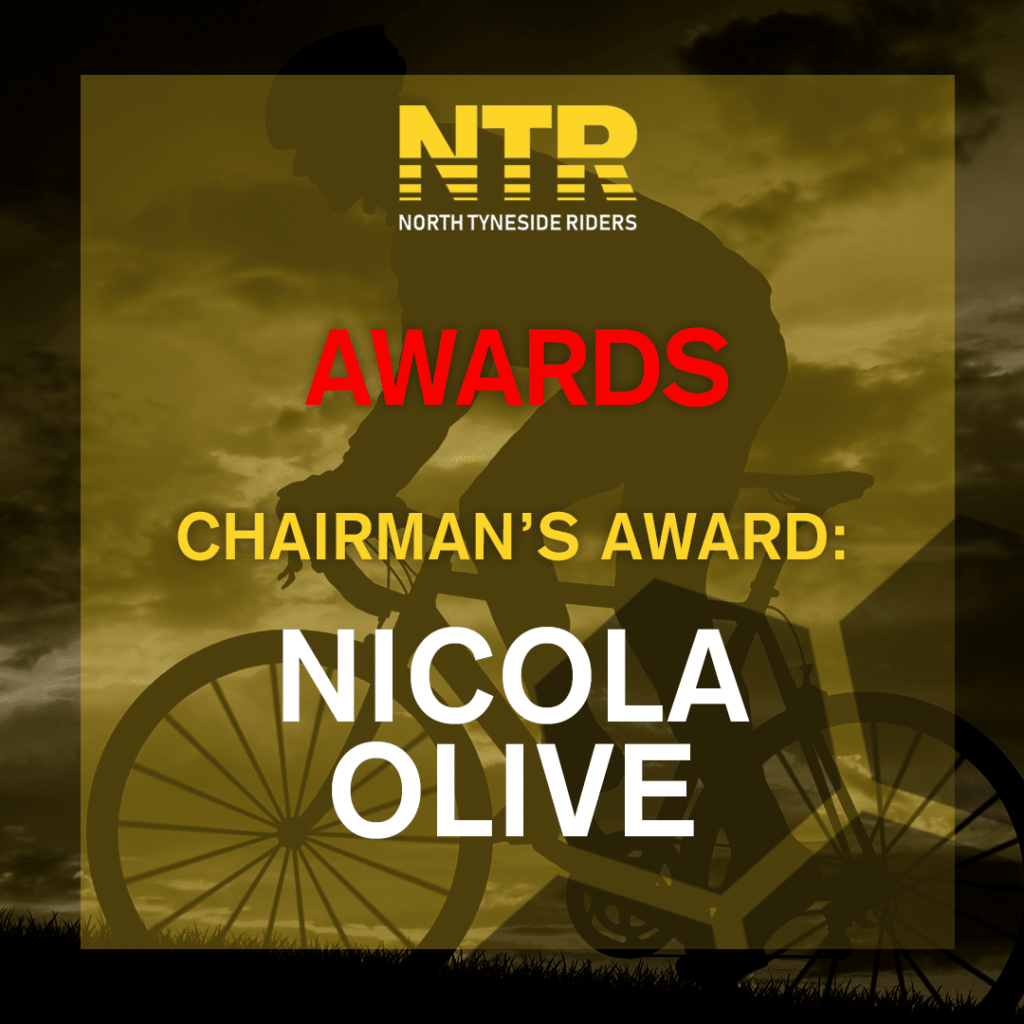 5. SELFLESS HELPER AWARD 2018
There are people in this club who are only too happy to help other people.
This years selfless helper award goes to HUGH ROBERTS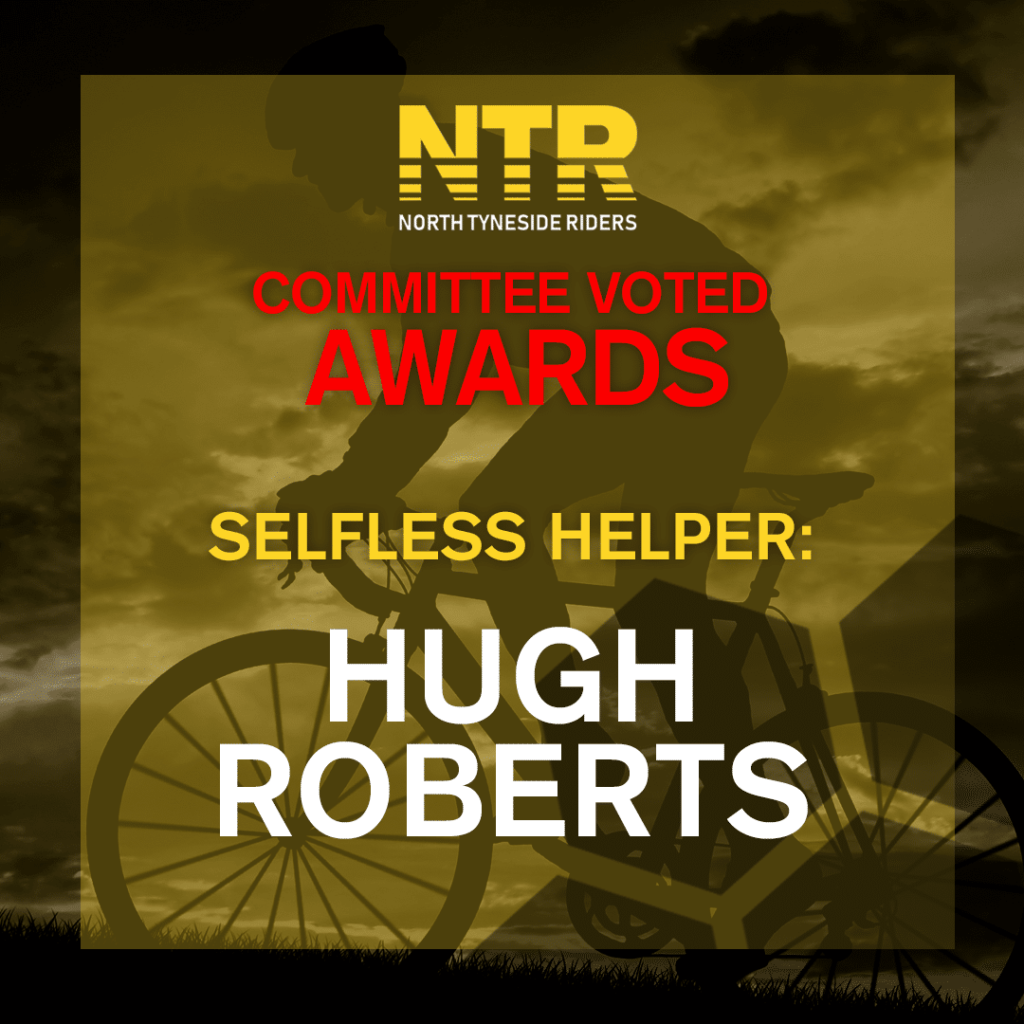 RACING encompasses both men and women within NTR, so we've got an award for each.
6. NTR Mens Race Award 2018
We looked at not only road racing, but also cyclocross and time trials. A list of names of men who've represented NTR was created by the committee and we voted on them. One name swept up nearly all of the votes.
In recognition for the frequency and reliability of his representing NTR in cyclocross in the North East, the mens race award 2018 goes to STEVE CUNNINGHAM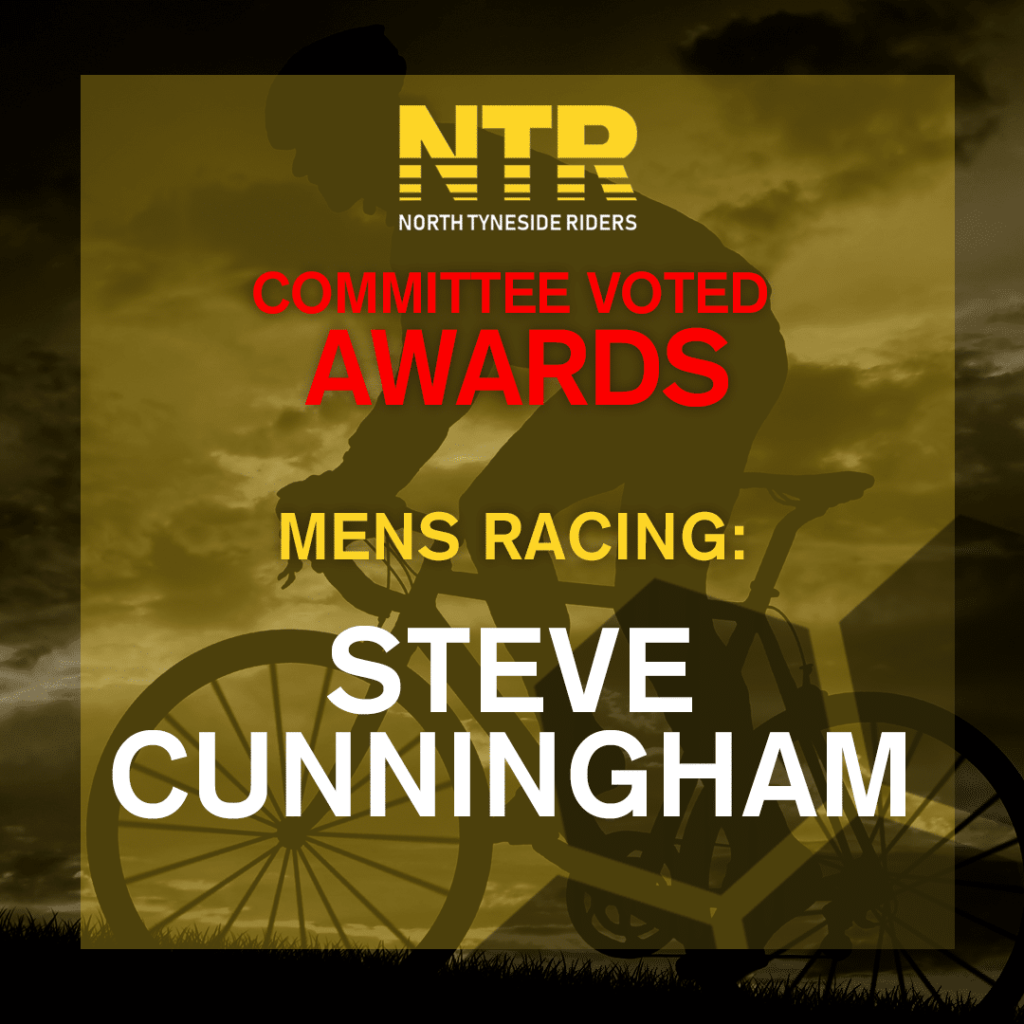 7. NTR Womens Race Award 2018
The women haven't been slacking this year either and they've been on the podium a few times. Again we looked at Road and track racing, Cyclocross and Time Trials
The committee members nominated several equally impressive women across all of those disciplines and then we voted.
The womens race award for 2018 goes to PAULA SALTER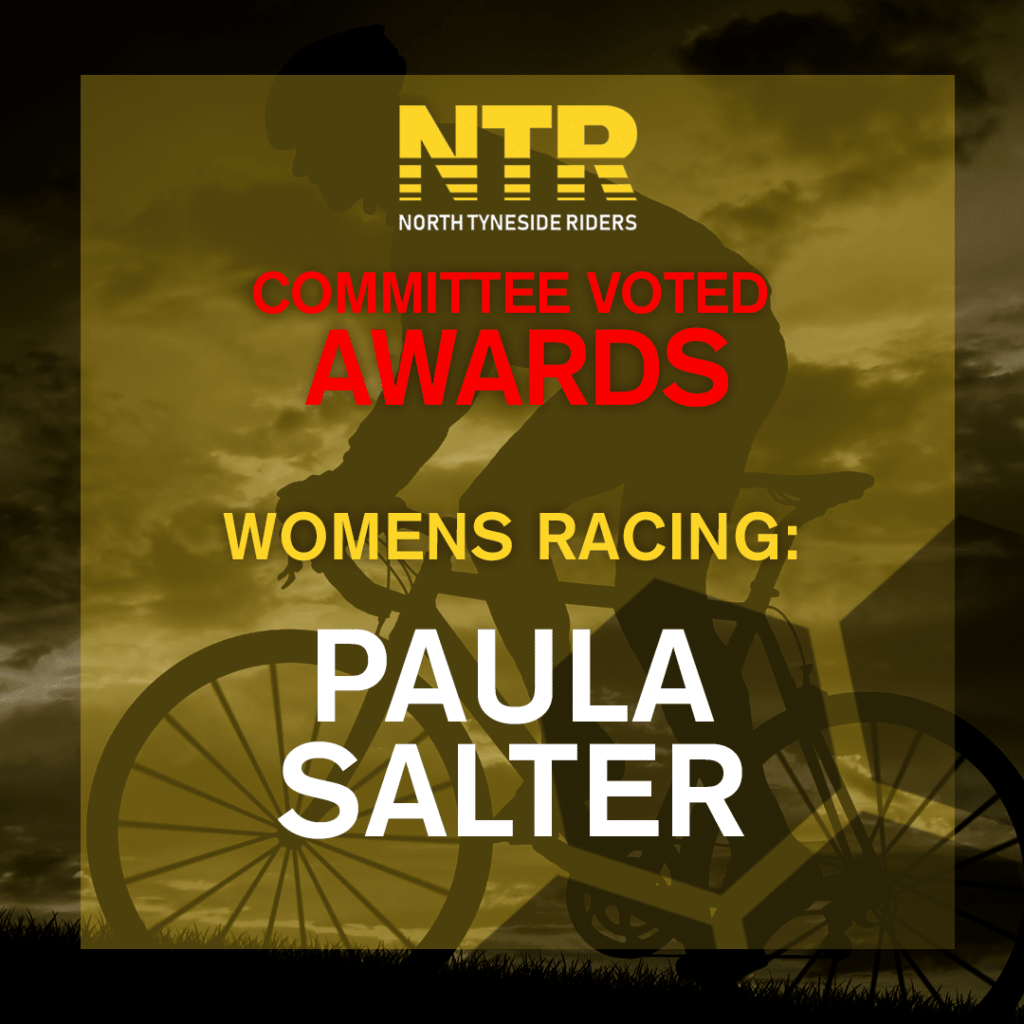 THE SPIRIT OF NTR AWARDS
The qualities we wanted to shine a light on make for quite a long list. Someone who are well liked, inclusive, supportive, encouraging to others (particularly newbies), fun, who tolerates having the water taken, who doesn't mind sacrificing their own time because they'd far rather other people enjoyed themselves.
The Spirit of NTR is strong in the women and it is strong in the men too.
So we have two Spirit of NTR awards for you…
8. Spirit of NTR (Womens Award) 2018
We were looking for all those same inspirational qualities I mentioned before.
The womens spirit of NTR winner 2018 goes to NICKY JENKINS.
9. Spirit of NTR (Mens Award) 2018
And so, on to Mr Spirit of NTR.
You have a new Men's Spirit of NTR. This man is always there. He's friendly, chatty, patient, kind, fast when needed, and slow when others need it. He's everywhere but doesn't like to blow his own trumpet. So it's about time we recognised the qualities of your men's spirit of NTR winner 2018, who is MATT ELLIS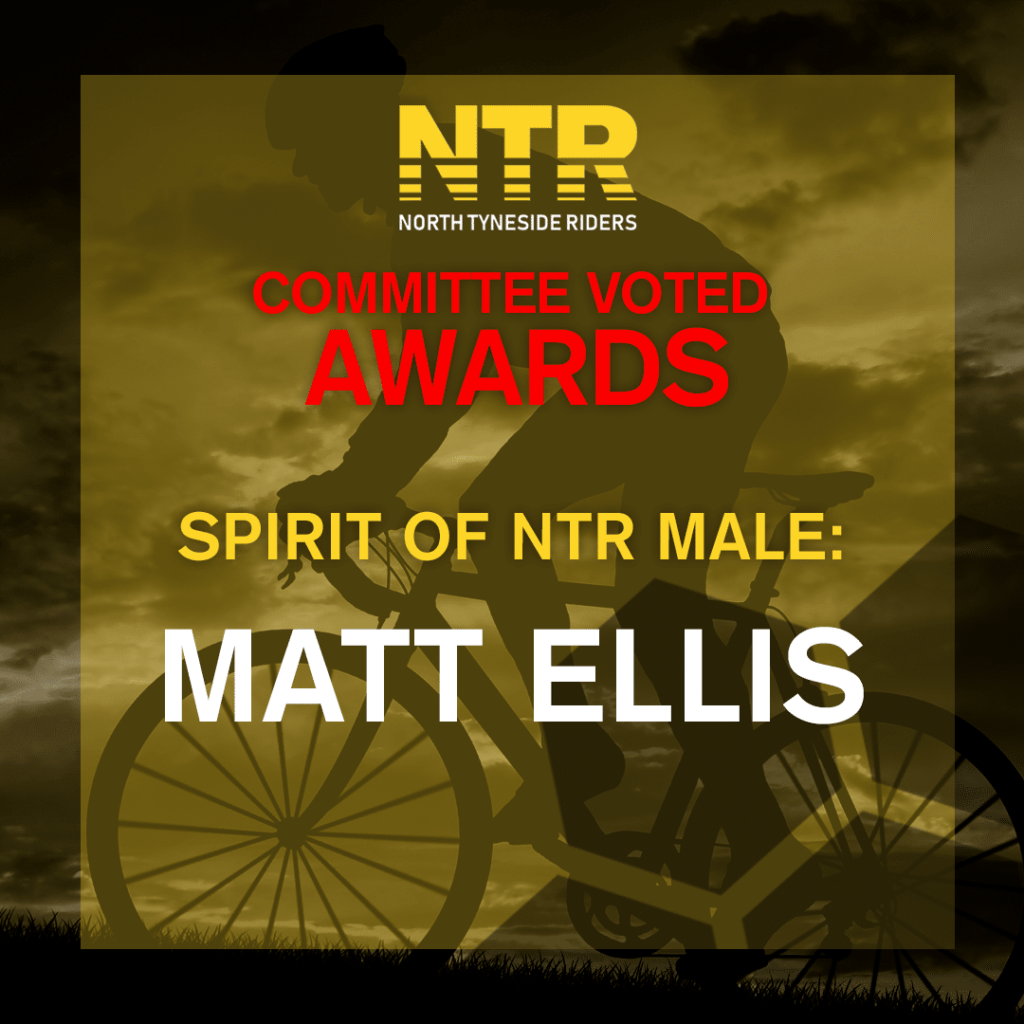 AND NOW FOR THE CATEGORIES MEMBER VOTED FOR
10. MOST IMPROVED WOMAN 2018
There were 17 nominations:
Top 5 in alphabetical order
Sarah Brett, Tish Henderson, Ruth Marshall, Paula Salter, Sian Salter
By a clear margin, your winner for most improved woman in 2018 goes to SARAH BRETT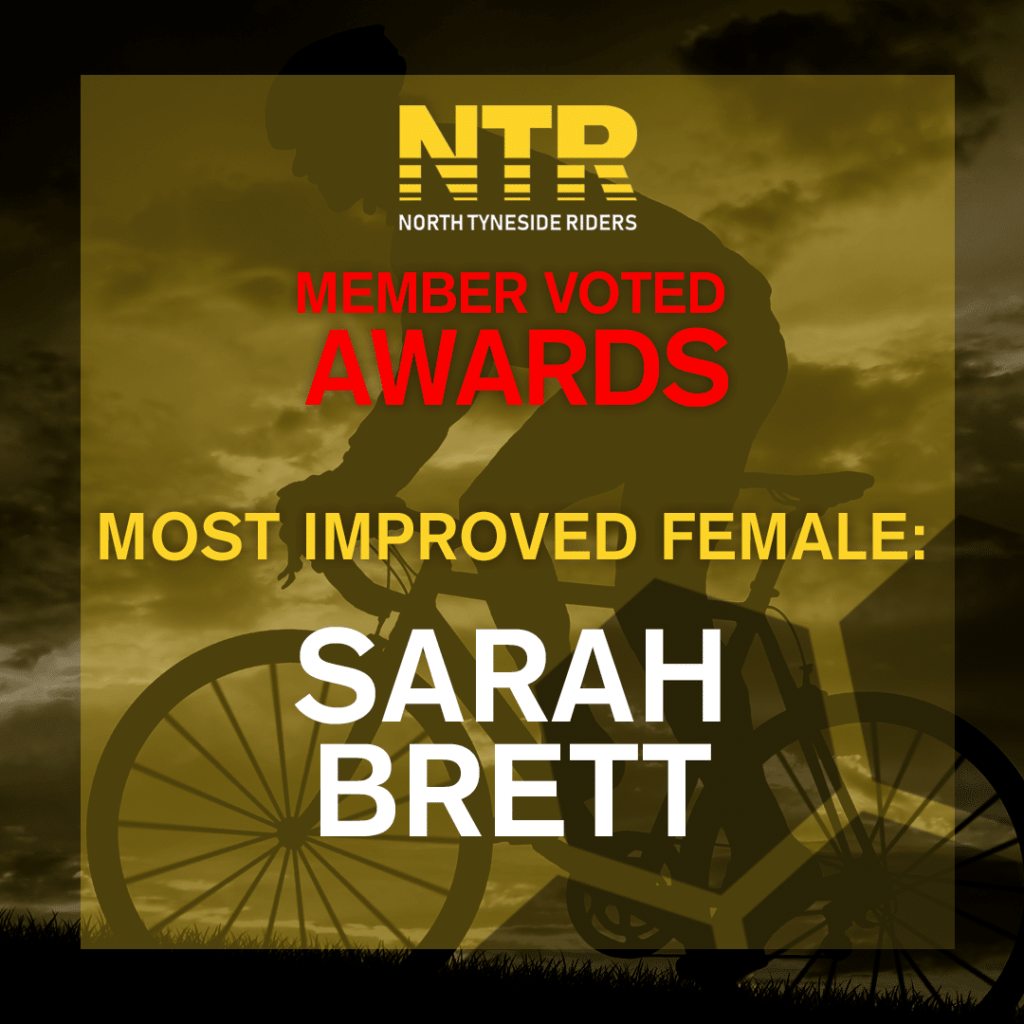 11. MOST IMPROVED MAN 2018
There were 32 nominations:
Top 5 in alphabetical order:
Graham Clayton, Gary Wallace, Phil Hall, Wilf Sargent, Stu Rae
A very close result, but one with more selections as first choice. Your winner for most improved man in 2018 goes to GARY WALLACE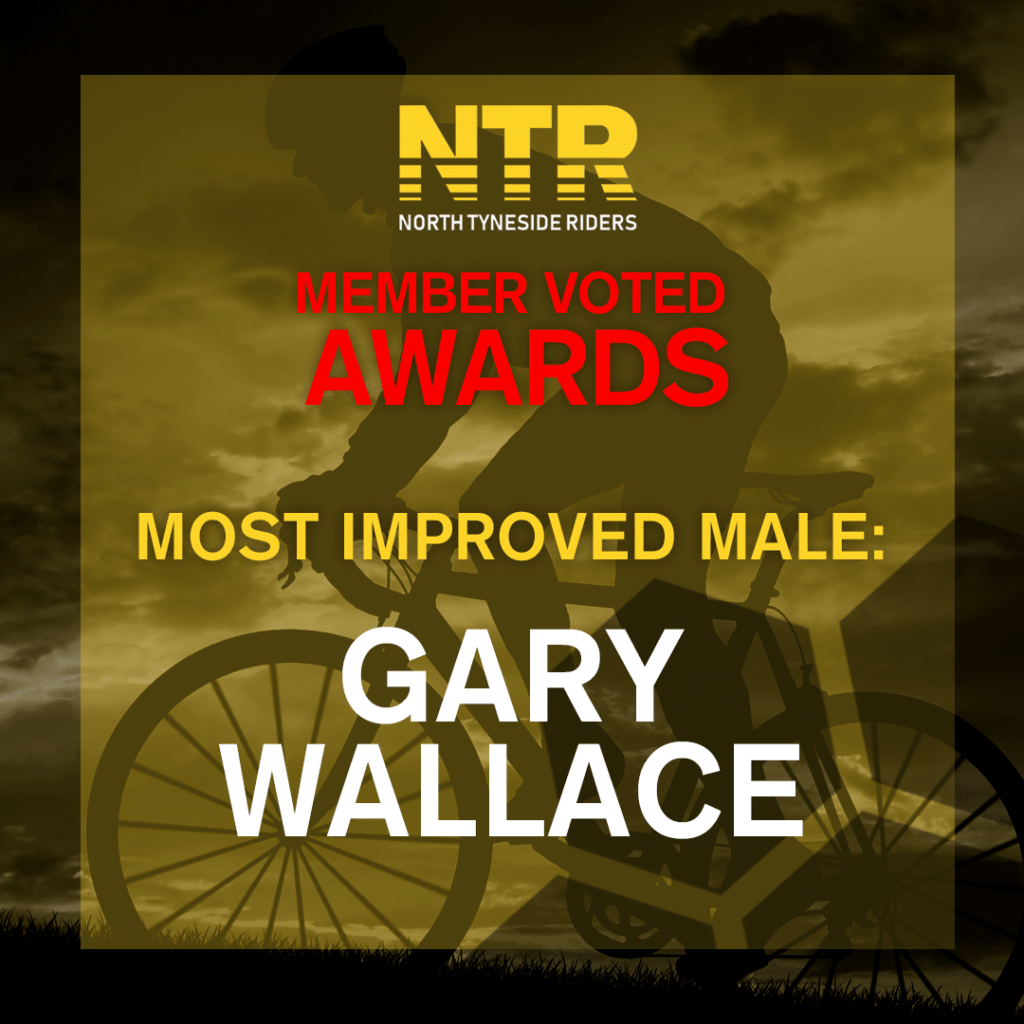 12. WOMAN OF THE YEAR 2018
There were 12 nominations:
Your Top 5 in alphabetical order:
Sarah Brett, Carrie Brookes, Ruth Marshall, Nicola Olive, Paula Salter
With almost three times as many votes as the runner up, your first choice for NTR woman of the year 2018 Winner goes to RUTH MARSHALL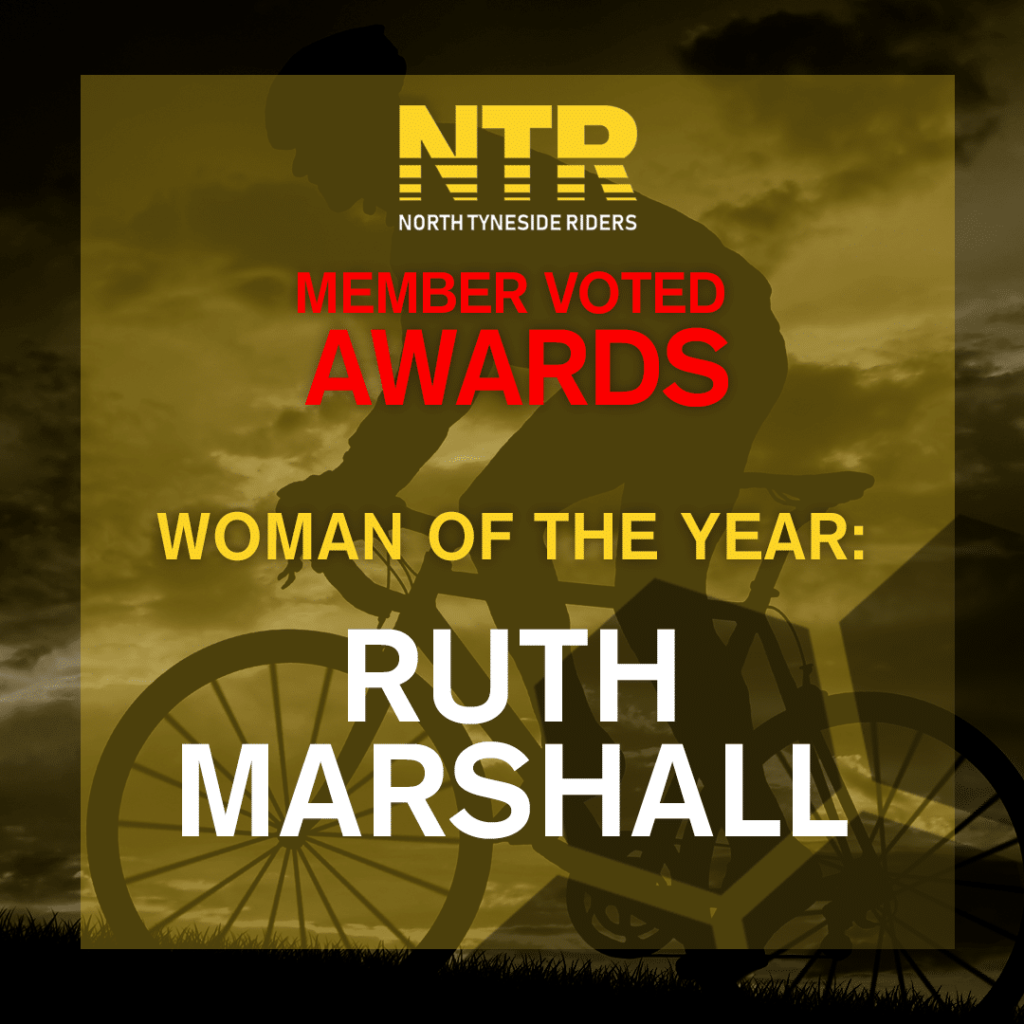 13. MAN OF THE YEAR 2018
There were 23 nominations:
Your Top 5 in alphabetical order:
Mick Chappel, Alan Dale, Andy Roberts, Colin Tupman, Gary Wallace
Your man of the year 2018 winner, by a clear margin goes to ALAN DALE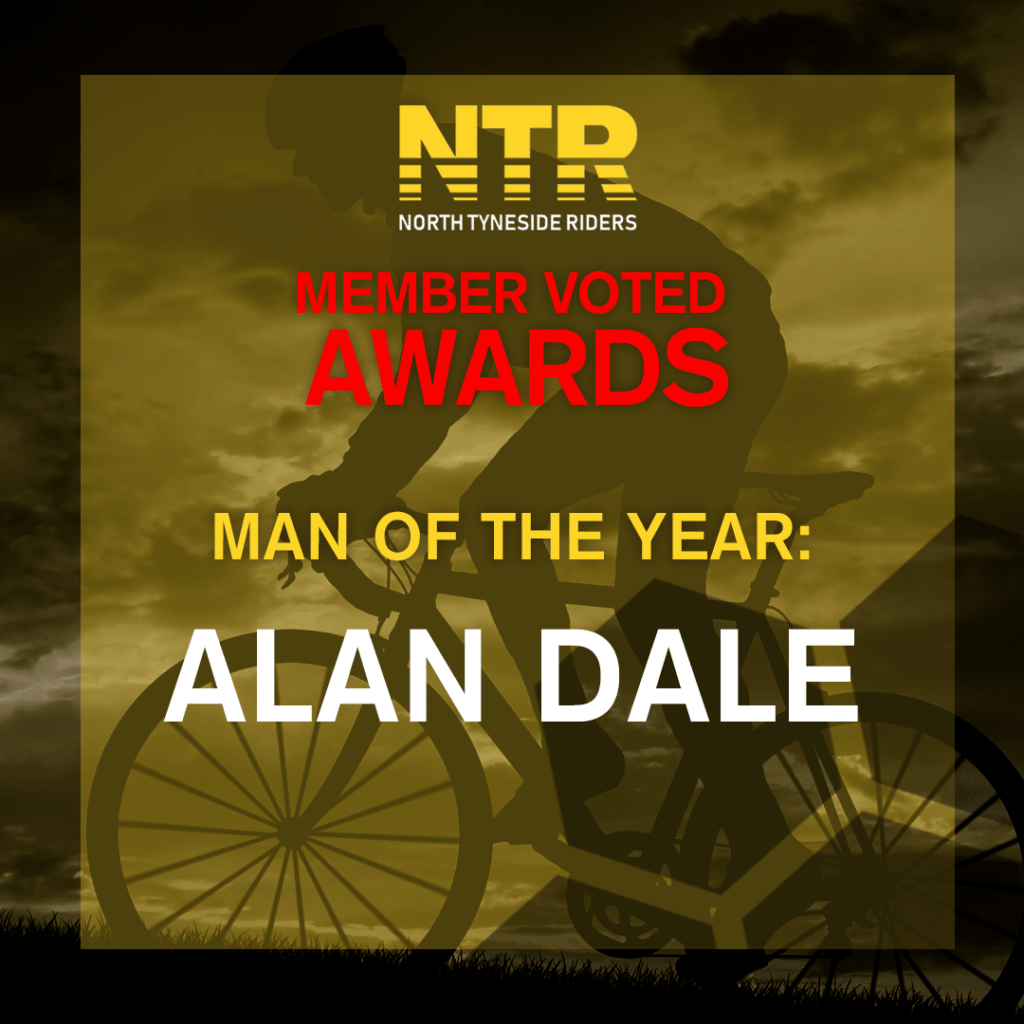 Our ever growing Dirtbags had their set of awards.
14. Marky Marks Rider of Note
Marky Marks Rider of Note winners goes to DAVID CLEMENT and DAVID BURGESS for both of their support, enthusiasm and multi dirt disciplined endeavours (XC MTB racing, CX Racing, MacAvalanche etc etc).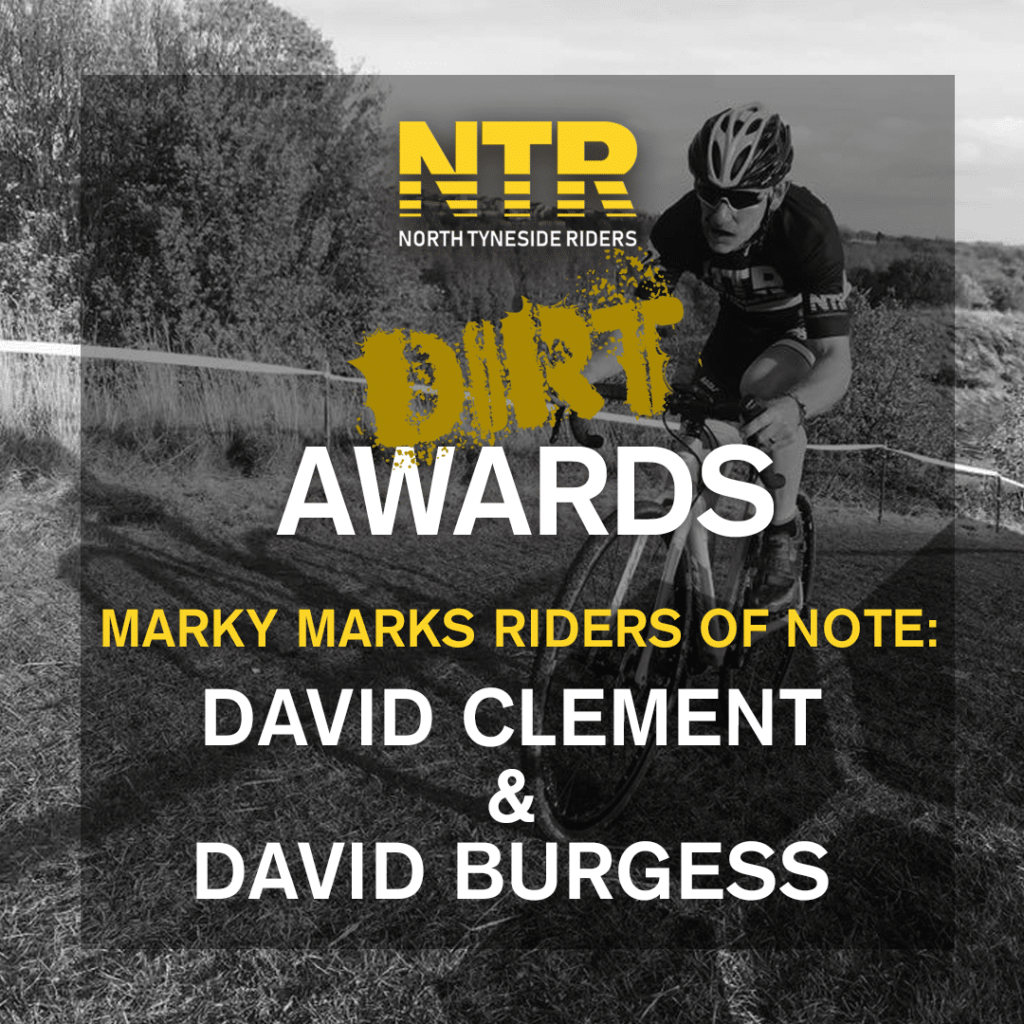 14. Most Improved Dirtbag
Most improved dirtbag award goes to ANDREW CONNOR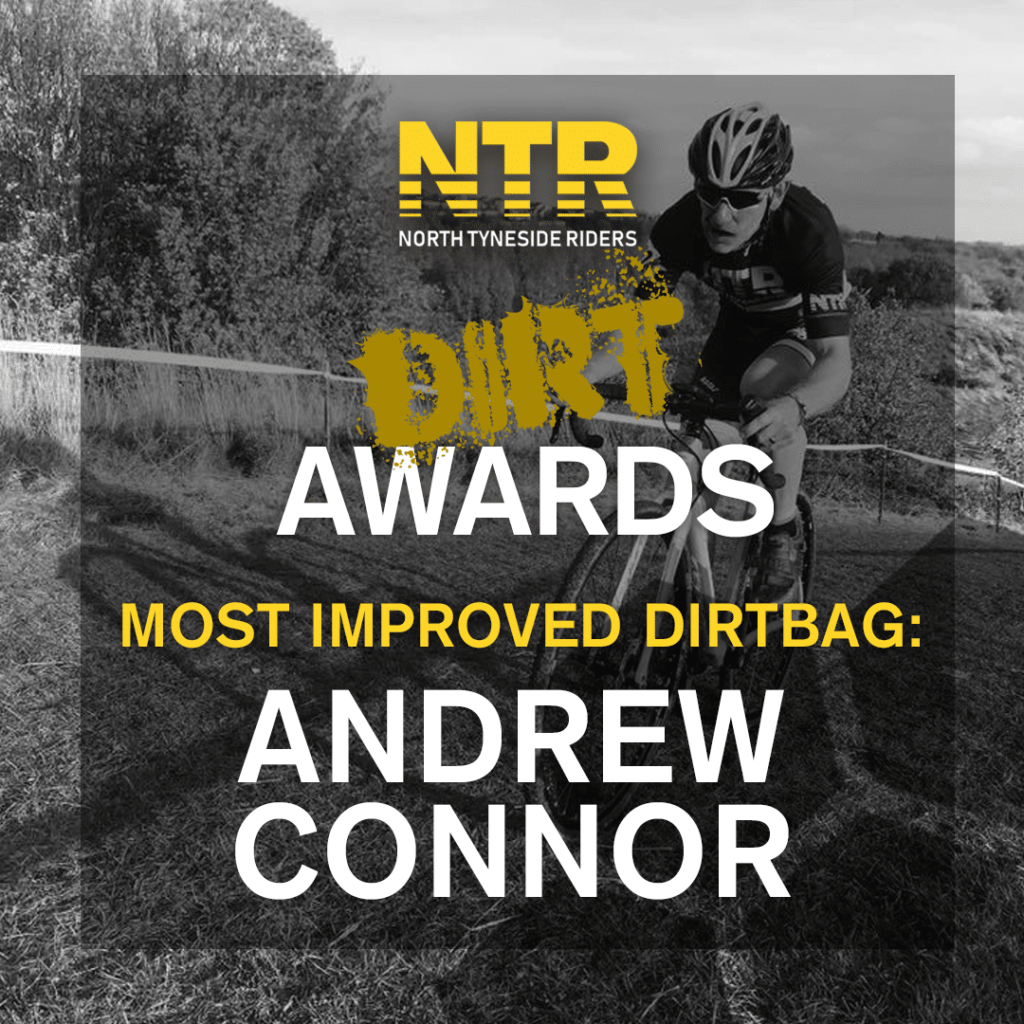 15. Spirit of Dirt
Spirit of dirt award goes NICOLA OLIVE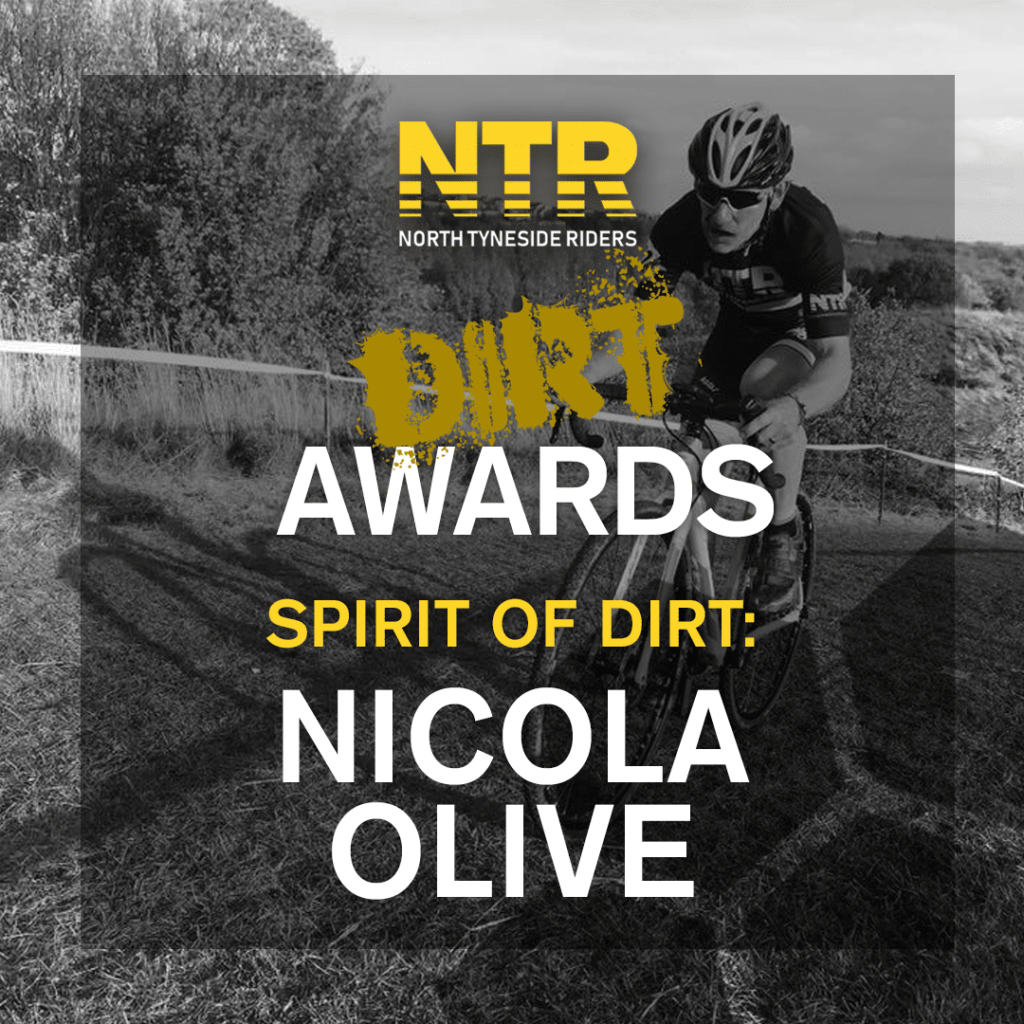 Over in Zwift land where the sun always shines, they had awards too.
14. Most Improved Zwifter
Most improved zwifter award goes to LOUISE ATKINSON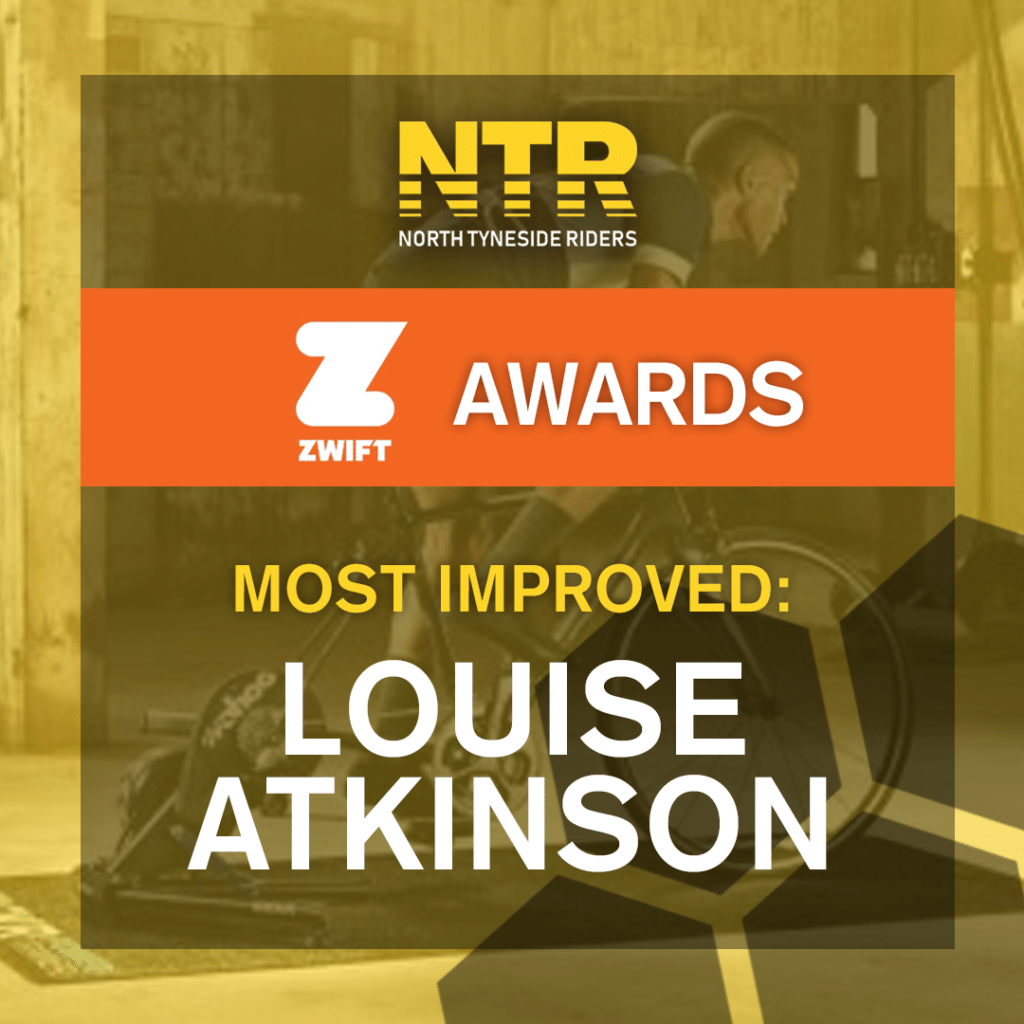 14. Skippers Choice
Skippers choice award goes to STU RAE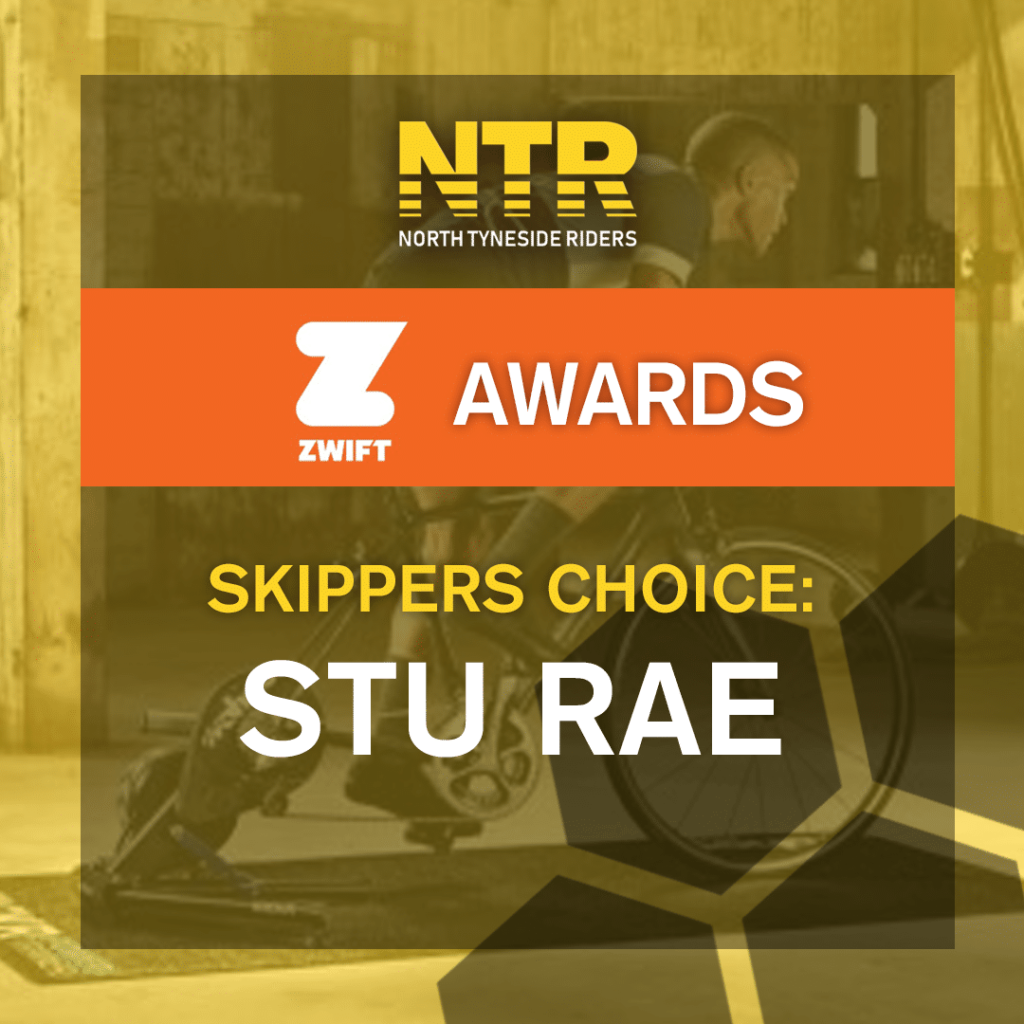 14. Spirit of Zwift
Spirit of Zwift award goes to CHARLIE RYAN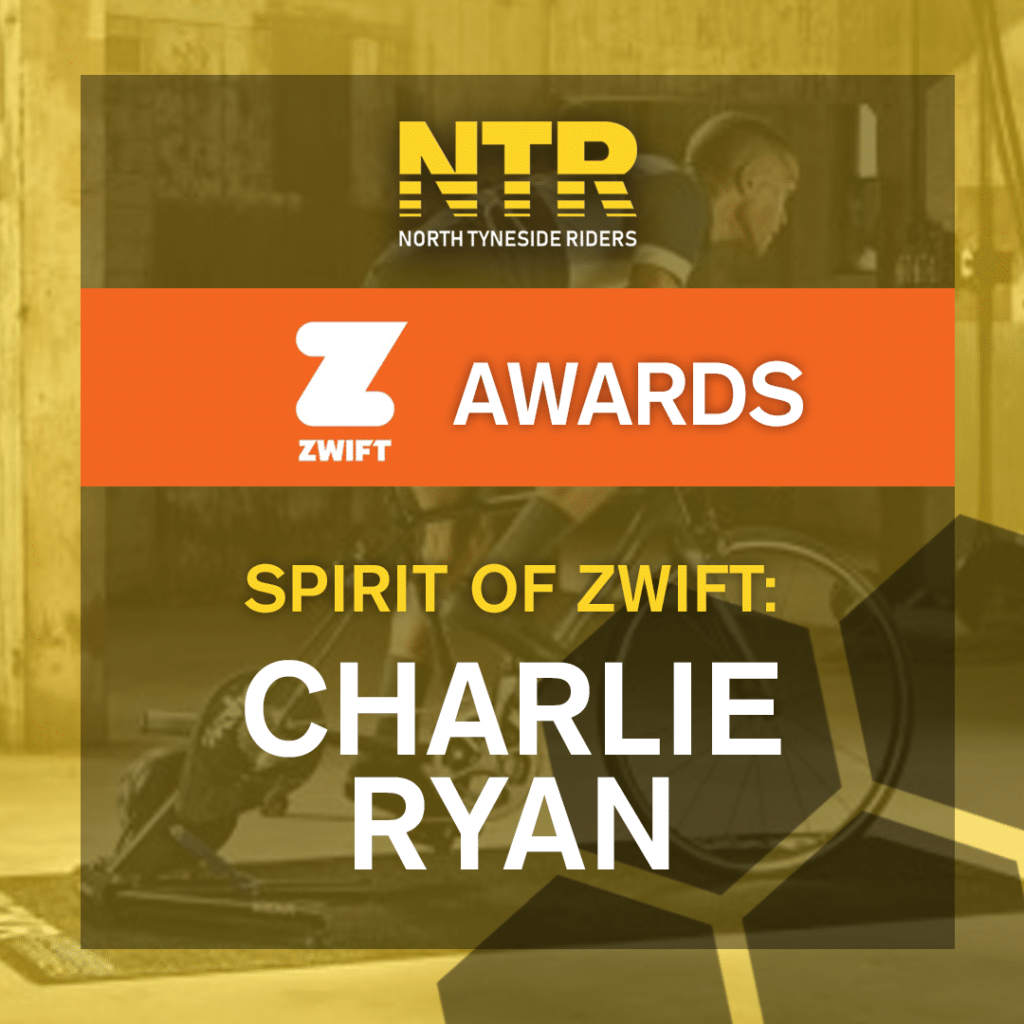 NTR would like to congratulate all of tonight's worthy winners and the below picture just about sums up the night!
I hope this report gives an indication of how much fun being a part of NTR is. Why not give a couple of our rides a go?
See you soon.