Sportives are not everybody's cup of tea, but they're an almost now a weekly staple of the Cyclist's Calendar. I've done some good ones over the years, and some not so good. The Wooler Wheel is certainly in the former bracket, it's a lovely ride. And what's more, on Saturday 13th May 2017, the roads were literally throbbing with Black and Yellow, as the NTR packed the rural roads of Northumberland once more. I've no idea how many actually ventured out, but it must have been 25 or more.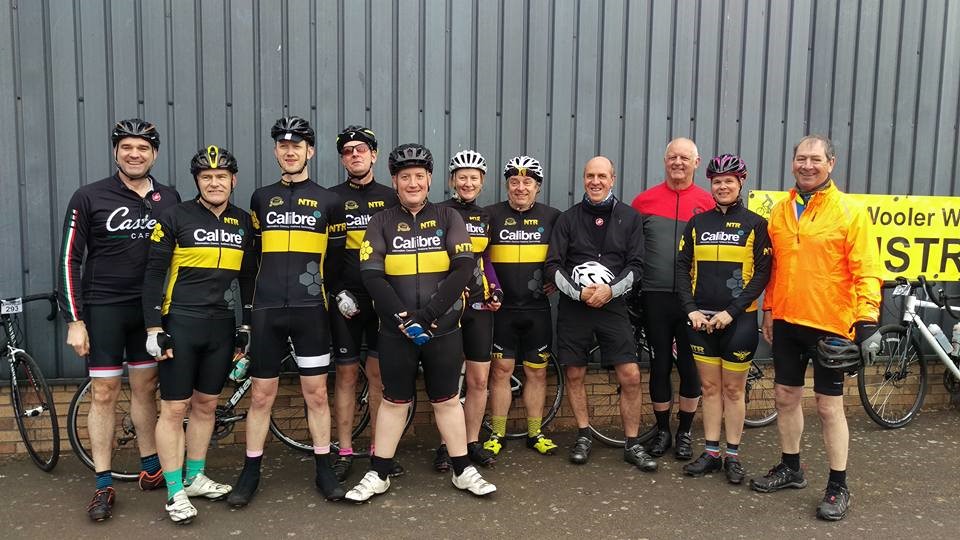 NTR Group Photo at the start with smiles of either optimism or fear
The Wooler Wheel has four options, 170k, 100k, 60k and a 30k Junior Sportive. Hugh Roberts and myself opted for the slightly brutal 100k, making a pact, signed in blood, to stick together until the bitter end. Our fellow travel mates, Graham Raftery and Greg Koefod also opted for the 100k, Graham we would never see again, and as for Greg, more on him later.
The above group rolled out at a fairly steady pace at just after 8am. Mr Raftery was away and gone over the top of the very first rise, and the rest of us hit the first climb, named "Start as you mean to go on" Never has a Strava segment been so aptly named. It may have only been 0.5k, but at 8%, it saw the fat lad dropped right from the off. The features that appeal on this ride are the quiet rural roads, breathtaking scenery, and excellent organisation. What doesn't appeal so much, to me anyway, are the Hills. It's absolutely relentless. You're pretty much either climbing or descending right from the off. Not ideal for a big lad who likes the flat, and a good 10-15k to warm up. Jelly Babies were waiting for all at the top, a lovely touch, and a welcome sugar rush after a hard slog. The first "real" climb is Lyham Hill. Coming in at just over 2k long, at a gradient of 6% felt very real. It's also one of those horrible climbs that actually gets steeper the nearer you get to the top. Hugh and me made it up without stopping, and hold the front page, we weren't the slowest up either! Feed stations are vital to the average Sportive rider, and after a brief water stop and regroup with Peter H, Peter C and Mike, we pressed on. Coldstream was the first proper stop, where were treated to more Jelly Babies, Peanuts and some of the finest home-made flapjack I've ever tasted. Sadly these soft, fruity sweets, left Greg minus half a tooth. A story we would hear repeated once or twice throughout the day 😉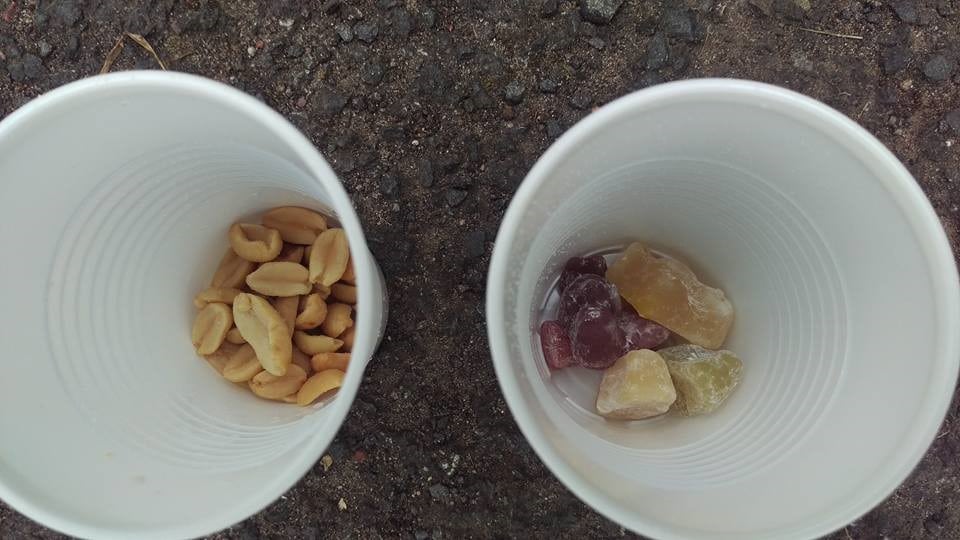 This is what keeps the wheels turning at any good sportive, salt and sugar
Onwards towards Bonnie Scotland we rode, marvelling at the stunning scenery that only the Border Counties can provide.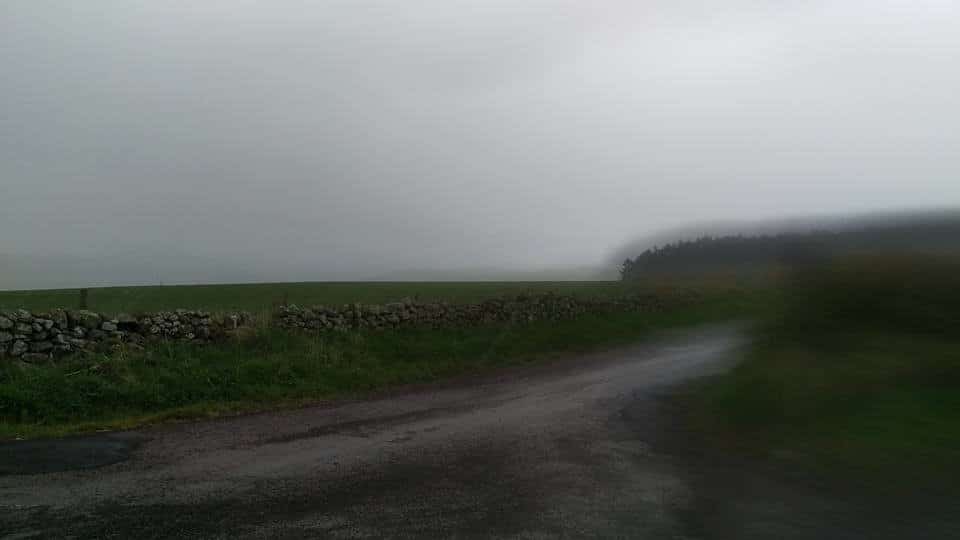 Stunning Borders Scenery, in traditional Spring Time Weather
The search for flat roads continued, Greg having now joined Hugh and myself for the slog into Scotland. We found none. We did find some more of our erstwhile NTR colleagues out there though, meeting Carrie and Owen Brookes at a feed, and finding a rather fed up looking Phil Robinson suffering a badly shredded tyre. Patched up by the ride support, he proceeded to ride to the feed station with a Tyre lever sticking out of his helmet!
Cold and wet, we finally crossed the Border toward Kirk Yetholm. That bit was downhill, I quite enjoyed that. Especially after the stupidly steep, but wonderfully named "Pressenberg"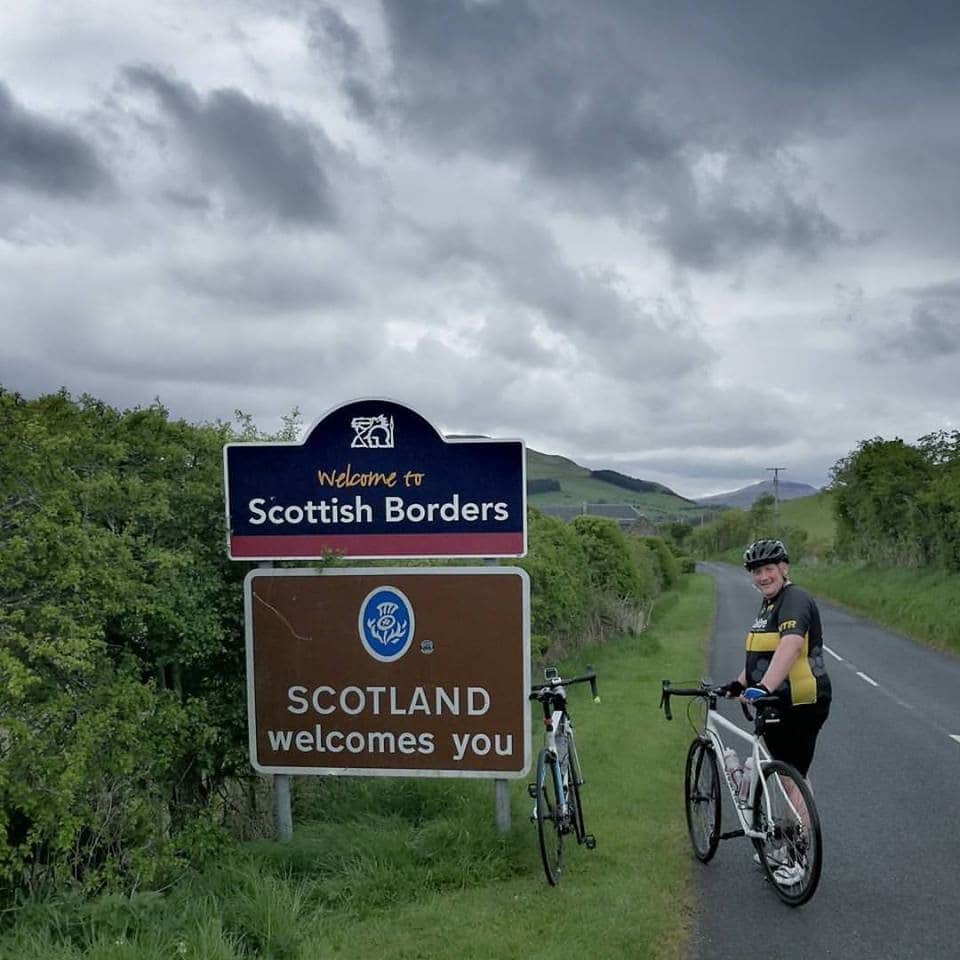 Grant Taylor about to enter Scotland. Scotland politely declined.
Below we have our Tuesday night leader Hugh Roberts, sporting a rather smart new Gilet also about to enter Scotland.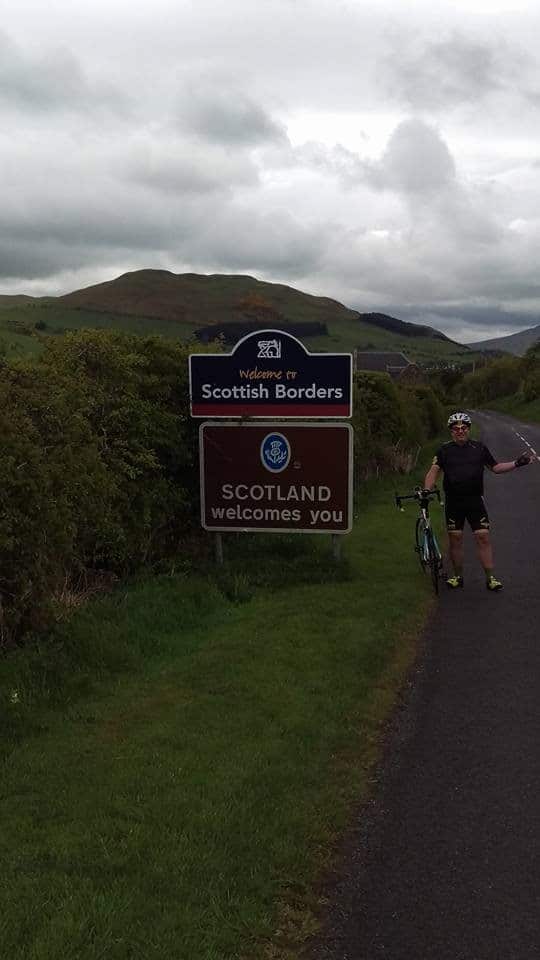 The Yetholm feed comes with only 30k to go, and although on paper, this is just about the length of one of our Tuesday night BAIT rides, this one wasn't on paper. It was on roads, steep roads. After a gradual slog back over the border into England, we descended into a false sense of security to the foot of possibly the hardest part of the ride.
Firstly, Thornington Hill. Which was about 1.5k long, with some horribly steep sections. We had a couple of young lads cheering us on from their front garden, but sadly I was too fatigued to do more than smile. Another short descent followed, and a quick gel, before taking a look to my right, and almost throwing up.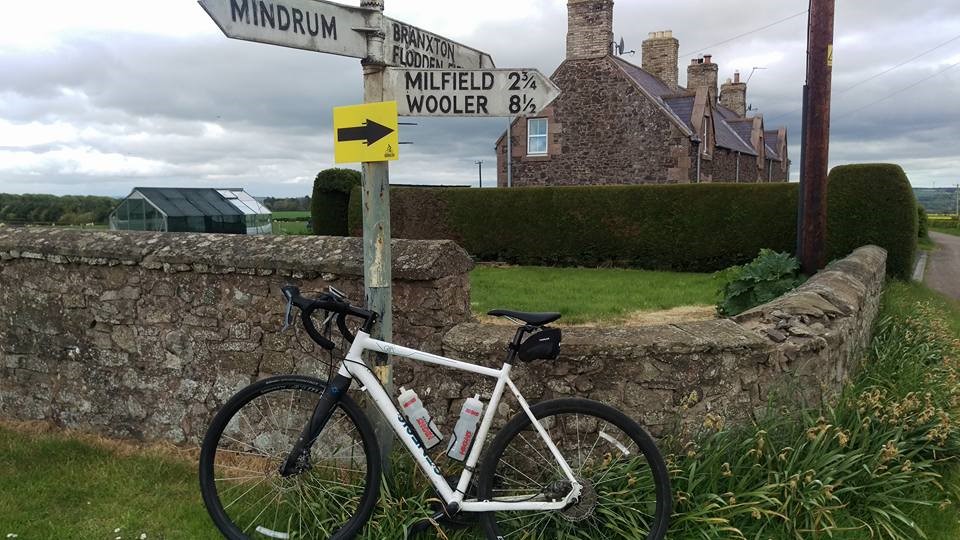 The Invisible Touch stands poised, about to face the last big obstacle
The last real hill has a couple of very accurate names amongst it's various Strava segment names, "The Bastard" and "The Last Twist of the Knife" are just two of them. The climb of Flodden Edge is a leg breaker. It's like slightly shorter version of the Ryal's, with a short, but leg snapping gradient of up to 20% at its steepest. I steadfastly stuck to my resolution not to neither stop, nor walk on any of the hills. By the top, my heart decided it no longer wanted a part of this madness, and seemed to be making an attempt to escape out of my chest.
From there on, it was finally downhill in the main. The only thing that ruined this was the headwind that made pedalling even when going downhill essential.
On arrival back in Wooler, those lovely ride organisers provided us with a Scotch Pie that was my personal highlight of the entire day, washed down with a strong coffee. In short, I'd recommend this ride to anybody wanting a challenging, but thoroughly enjoyable day out on the bike. It's tough, pretty, well organised, run on very quiet roads, and the hospitality at the end is second to none. I only wish I'd taken a photo of that pie to share with you.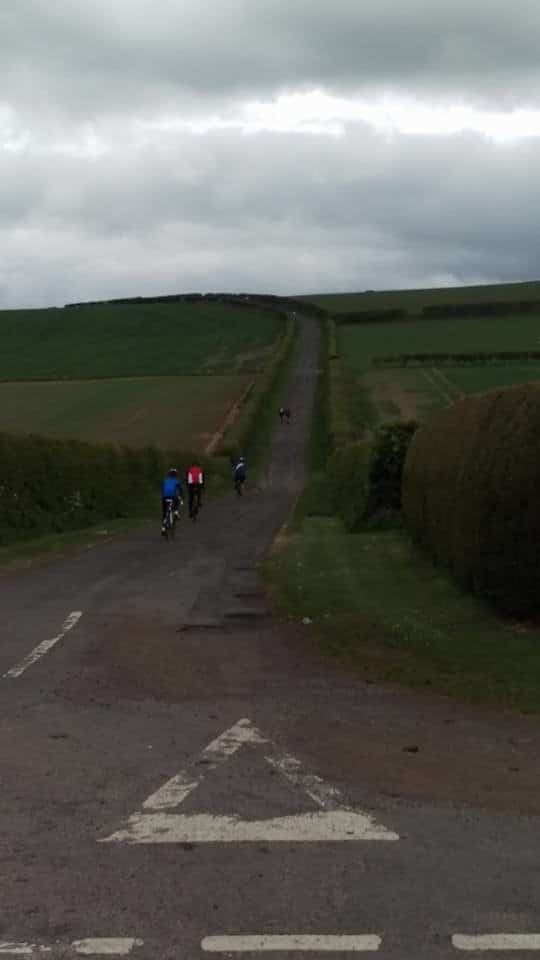 Flodden Edge, revolting in every way.