Well that's a wrap on the NY Moors weekender. We had 9 riders on the Saturday. A few brave souls arrived on Friday afternoon and rode a cheeky warm-up ride that I had optimistically labelled a "bimble" (more on that later) before getting to down to the
serious business of pre-hydrating for the next day.
The rest of us arrived on Saturday morning to do a route chosen from Tony Douglass' climbing challenge. For those of you who haven't heard of this 2022 challenge – here is a link. It's a serious undertaking as we discovered.
Anyway, we set off into the Yorkshire sunshine full of enthusiasm, the climbing started immediately. The route really was a showcase for the delights that this region has to offer. There were steep climbs, sweeping descents, broad expansive fell-top scenery and pretty villages. As we headed North towards Teeside the landscape slowly evolved from lumpy river valleys and moorland tops into more undulating farmland and we sped through village after village at a good pace after the slow progress on the hilly stuff.
At Great Ayton (25 miles in) we were introduced to the culinary delights of the Velveteen Rabbit Luncheon Club – the first of 2 great cafes handpicked by our superb cafe meister, Suzanne Mcardle. Refreshed, we set off for a loop into deepest Middlesbrough to celebrate Ormesby Bank (climb no. 51, 4th category). It wasn't a universally popular detour, but its was one more ticked off the list.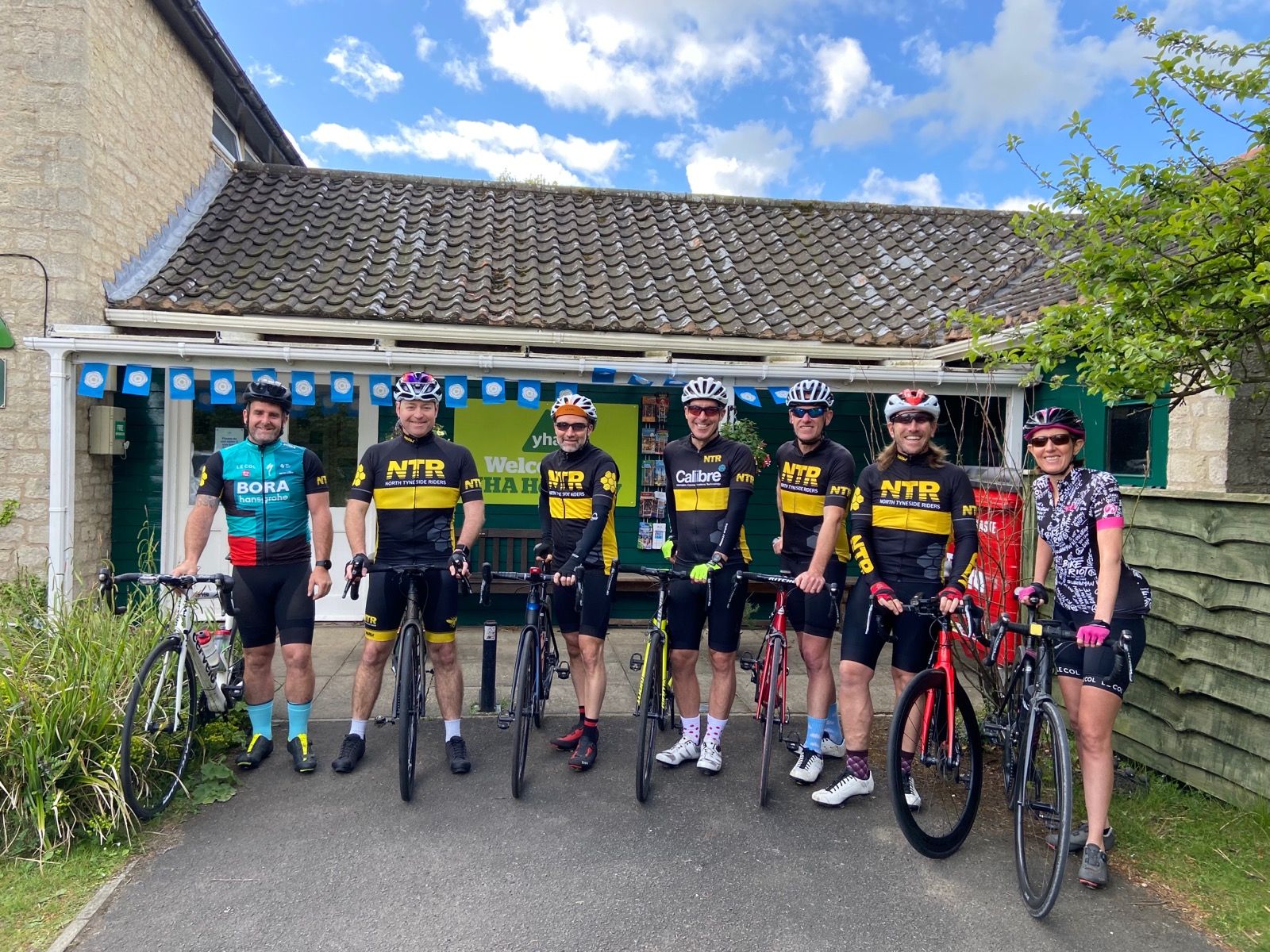 Back to the nicer bits from Nunthorpe onwards we were soon at our lunch stop – the Rusty Bike Cafe in Swainby; another great stop with a fantastic view…of the climbs to come! In the last 25 miles of this route the climbs come thick and fast, some of them
pretty steep on tired legs. The scenery was stunning and more than made up for the pain. It took a great deal of willpower to resist the draw of the sun kissed beer garden of the Owl at Hawnby, but again we had an eye on the climb that comes after it. The 25% section of Scarth Nick (climb no. 13, Cat 1) defeated me and I had to get off and walk. Again the view at the top was worth it. From there it felt like we had reached the top, the Cima Coppi, since as I write this the Giro d'Italia is just finishing. We had just one climb left, the short but emotional Rievaulx bank past the beautiful ruined Abbey.
It was 9 thirsty riders who piled into Helmsley to visit our final watering hole, the Helmsley Brewing Company (which again I can recommend). Some more drinks, a tasty curry, some football, an excitable Spaniard and a shaggy hell-hound later and we were
done for the night.
Sunday dawned and the remaining 5 riders were eagerly discussing the available routes. We decided on a short tour of the uplands North of Helmsley which I had previously described as the "Helmsley Bimble". Boy was I wrong on that! Tired legs made for slow climbing and there was plenty of it. Once again I have to thank everyone who waited for me in the rain. NTR riders really are a patient bunch!
I hope that anyone reading this summary will be encouraged to come on an NTR weekend trip. We get to visit some amazing places to ride. The camaraderie is always top notch. If you're put off by my descriptions of the climbs on this trip remember we
can tailor routes to suit the riders who turn up. We had places spare at this event and it would be nice to have them filled at the next event.
Coming soon we have Mick Chappel's Yorkshire Dales trip 12-14th August & Simon Davidson's Tynemouth-York Weekend 24th/25th September. If you have an idea for an away trip please get in touch we can help you organise it. The club has a budget for subsidising rides and trips like these; it's just one of the ways we try to give you value for your subscription fee.